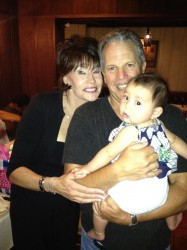 According to Jewish tradition, the ten days starting with Rosh Hashanah (Jewish New Years) and ending with Yom Kippur (the Day of Atonement) are commonly known as the Days of Awe (Yamim Noraim). Those ten days are set aside for serious introspection. They are a time to consider our lives and deeds during the past year and to think about how to do better in the year to come.
If indeed we have another year to live…
In Jewish tradition, God sets aside the Days of Awe to make decisions about who will be inscribed in the Book of Life for another year, and who will not. At sundown this evening — at sundown on Yom Kippur, that is —  our fates are sealed. Not everyone reading this little blog entry will be around next year; perhaps the one writing it will be gone as well. Don't worry. I'm fine, at the moment: happy, healthy, everything going well. But… shit happens. Car wrecks and cancer and stupid accidents happen. Life is a terminal disease. Nobody gets out of it alive.
That's not pessimism, it's realism, and that's how you're supposed to think between Rosh Hashanah and Yom Kippur. Life is a decidedly finite proposition. Don't waste it. Don't take it for granted.
For me, the introspection of Days of Awe came early this year. A little over a month ago, my brother's fiancee went missing and for the next nine days, her family waited to find out if Jeanne Valentino had been inscribed in the Book of Life. When her body was found, dread gave way to grief and now those who loved her have a great gaping hole in their lives where Jeanne used to be.
My brother has found one source of consolation in his awful loss: his last words to Jeanne before he left the house on the last morning of her life were "I love you." He wanted me to pass this message on to all of you.
Say "I love you." Say it often. Mean it. Just say it  for the hell of it, sometimes, like when you're sitting around eating popcorn and watching TV. Don't assume that the people you love know that you love them. Tell them. Above all, say "I love you" before every parting. Make it part of  saying goodbye: "Bye! I love you!" Say it as though each day is your last together,  just in case it is. You won't be sorry.