True West Magazine recently published an article I wrote about what could be a previously unknown photograph of John Henry Holliday. Here's the story behind the article.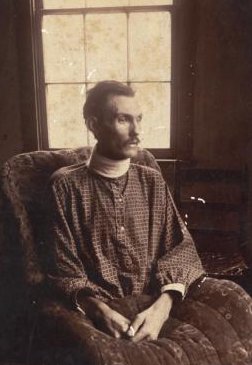 A couple of years ago, Don McKenna sent me a jpeg of the image you see here. It was part of a large collection of 19th century photographs he bought at an estate sale in St. Louis, MO. How might a photo of Doc Holliday end up in St. Louis, Missouri? Well, we do know Auguste Jameson Fuches, of St. Louis, was one of John Henry Holliday's classmates at dental school. Fuches and Holliday were the only two students to write their senior dissertations on the same topic: Diseases of the Teeth. And Kate Harony reportedly said that she met Doc in St. Louis in 1872 when he was visiting a friend there, though the sources that claim to quote Kate have been found unreliable.
Mr. McKenna had read Doc and knew I'd taught head and neck anatomy at Case Western Reserve University. He asked me to compare this photo to the one taken of John Henry Holliday for his graduation from dental school in 1872 (reproduced in the True West article and on this website; see below for close up comparisons). What did I think? Could this be Doc Holliday?
Like any good scientist, my first reaction was to try to disprove. If, for example, the older man's hairline was lower than young Dr. Holliday's, then it's an easy "Nope." But the older man's hairline appears a little more receding above a broad forehead.
Was there something in the photo that could date it to after 1887? The background is quite simple and nothing in it looks anachronistic. It's an albumin print consistent with the mid-1880s.
So I continued with a feature-by-feature anatomical comparison of the new photo and the 1872 graduation photo that has been authenticated by the Holliday family. That comparison is summarized in the True West article. My conclusion is we will never know for sure who the poor soul in the wheelchair was. That said, he looks just as I'd expect John Henry Holliday to look fifteen years after his graduation from dental school and shortly before his death from tuberculosis.
I'm adding another comparison below, which didn't make it into the magazine. As you can see, the proportions of the faces are very similar. The main difference is in the positions of the ears. To assess for yourself if that is significant, look at yourself in a mirror and tilt your chin up and down just a little. You'll see the effect of a slight difference in the poses.